MISANO SET TO STAGE MUCH-AWAITED 2020 OPENER

He has waited for a long time, but this weekend finally sees Dino Beganovic conduct his much-anticipated car racing debut. The start of a new exciting chapter, it marks the transition from a successful karting career into a unique opportunity in single-seater racing with the Ferrari Driver Academy – and it all plays out in fierce competition in one of the strongest entry-level series on the globe.
Beganovic's car racing debut takes place in the Italian Formula 4 championship, which has introduced several star names to the world of motorsport since its formation in 2014. For example, the very first champion to be crowned was subsequent F1 driver Lance Stroll, and as the 2020 campaign kicks off some three months later than originally planned due to the COVID-19 pandemic, it's a full grid on hand again with more than 30 cars and 13 teams entered.
Beganovic is racing for one of the very best: multiple champions Prema Powerteam. The 16-year-old Swede is forming a dynamic quartet at the esteemed outfit alongside Italy's Gabriele Mini, Brazil's Gabriel Bortoleto and Colombia's Sebastian Montoya.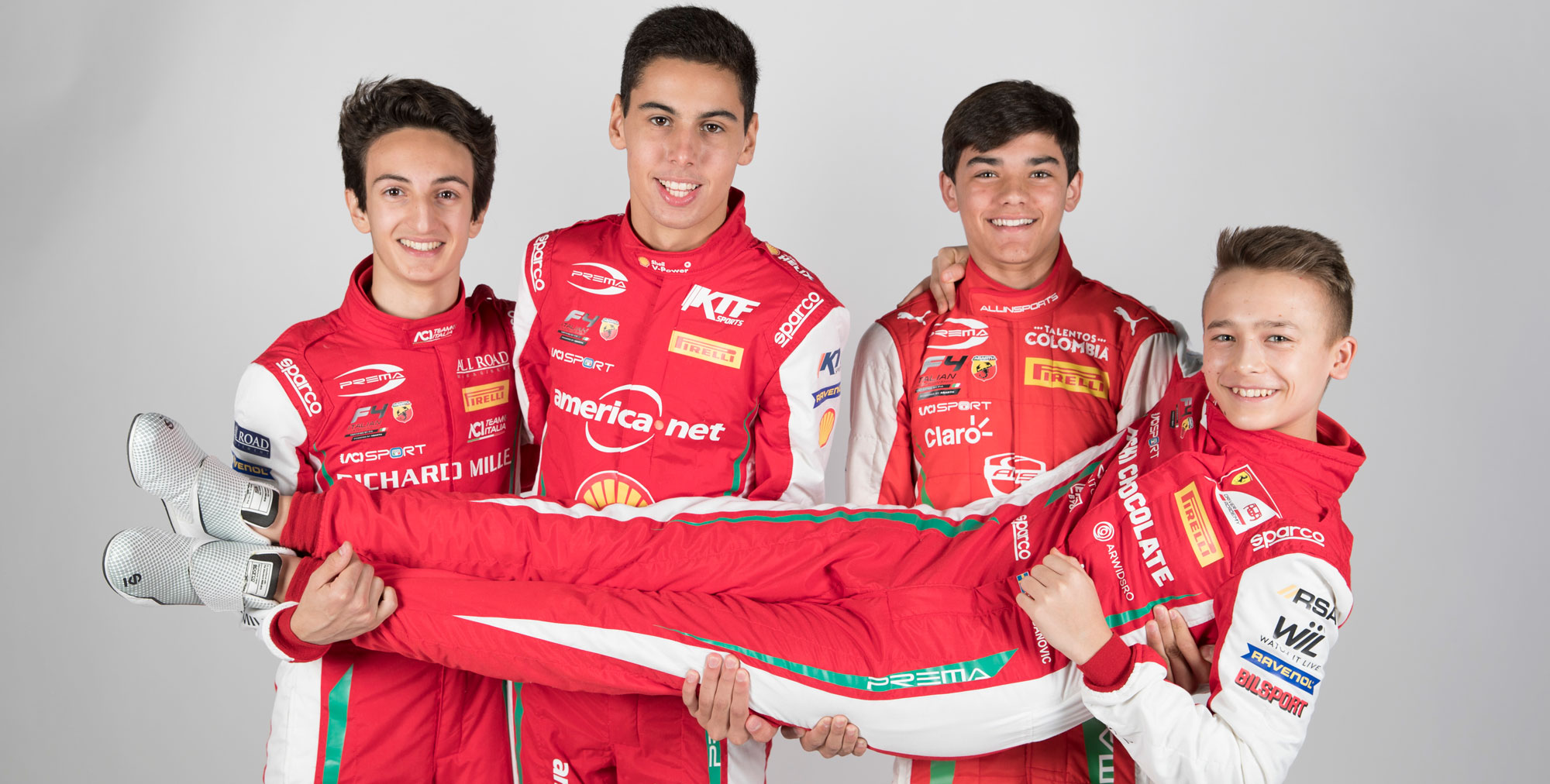 The season begins this weekend at Misano, not far from Rimini on Italy's eastern coast, and Beganovic – the first-ever Swedish representative on the Ferrari Driver Academy – is understandably keen to commence his new big adventure.
"Finally back to racing," says Dino Beganovic. "I've been looking forward to this for a very long time. My last race was the Karting World Championships back in September of last year, so it's been a while! Pre-season testing has been positive, but this is when we'll find out where everybody stands. It will be an incredibly interesting weekend for me in every aspect."
Beganovic recently moved from his home in Linköping, Sweden, to Italy to spend his time closely intertwined with Ferrari. Drawing from the legendary team's engineers and experience, he is nurtured on the high-profile FDA programme – but Beganovic very much values the importance of a feet-on-the-ground attitude.
"This is going to be my first-ever weekend of car racing," Beganovic continues. "Of course I have high ambitions, but at this very early stage I'm here mainly to learn. I can really only do my best and make sure I hone my skills continually, and then the rest will follow. It will be a whole lot of fun to finally be back racing!"
This weekend's F4 season-opener gets underway with an initial practice session already on Thursday evening. Friday then contains further practice, followed by two qualifying sessions which will set the grids for the weekend's trio of races.
All three races run over a distance of 30 minutes plus one lap, with live streaming available at www.f4championship.com and links also appearing at www.dinoracing.se.
This weekend marks the first of seven rounds that make up the 2020 Italian Formula 4 Championship.

TIME TABLE
Formula 4 Italian Championship
Round 1 – Misano
Thursday 30 July
Free Practice 1: 18.10-19.00
Friday 31 July
Free Practice 2: 13.05-13.35
Qualifying 1: 18.50-19.05
Qualifying 2: 19.15-19.30
Saturday 1 August
Race 1: 14.30 (30 min + 1 lap)
Sunday 2 August
Race 2: 09.50 (30 min + 1 lap)
Race 3: 18.00 (30 min + 1 lap)

Streaming, timing and results:
www.f4championship.com
www.dinoracing.se