– Ferrari Driver Academy youngster returns to the principality as championship leader
– Unmatched demands await F1 hopefuls on Monaco GP support bill

Formula Regional European Championship leader Dino Beganovic will be looking to carry his early-season form onto the streets of Monaco this weekend as the most unique event of the year takes centre stage.
Laid out within the tight confines of the Mediterranean city-state, the Monte Carlo street track poses arguably the greatest challenge on the calendar as the massive 37-car FRECA grid forms part of the prestigious Formula 1 Monaco Grand Prix support package for the second consecutive year.
Arriving as the championship leader after two wins and two second places from the first four races in Monza and Imola, Beganovic is in the hot seat as he bids to balance risk and reward between the unforgiving barriers of the jet set haven.
"We've had a fantastic start to the season, but we need to be realistic and keep our expectations in check," says Dino Beganovic. "We know that Monza and Imola are two good tracks for us, so it was really important that we maximised those events, but going into Monaco it's a completely different game. It's important to not get carried away and understand how particular this weekend will be."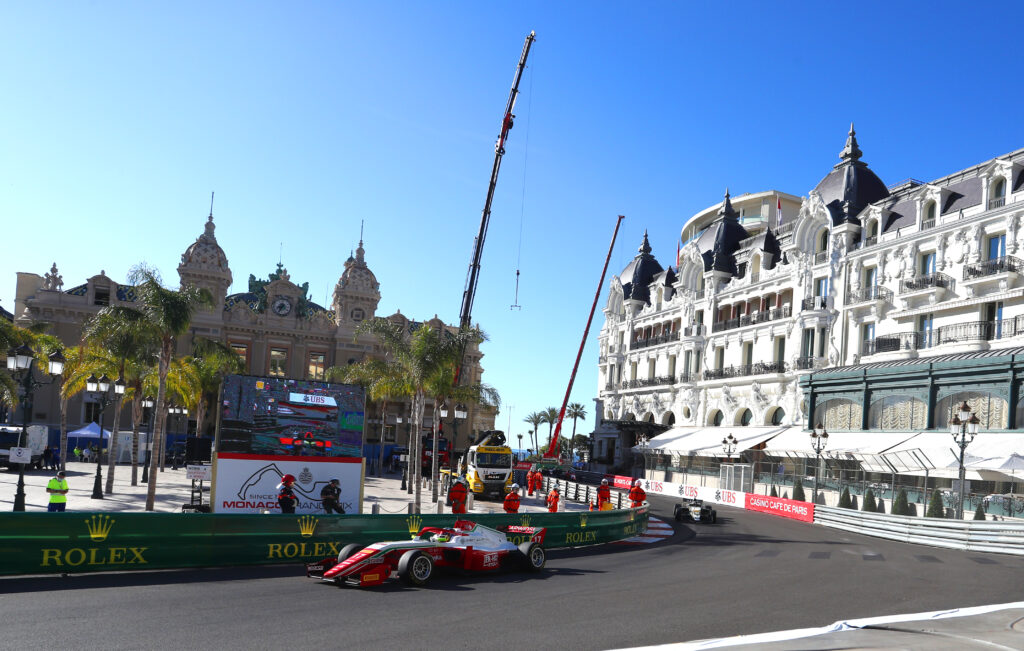 Beganovic made his street track debut at Monaco 12 months ago, on a weekend blighted by a practice crash and a major first-lap pile-up, and returns to the venue in 2022 armed with the critical experience that only a first-time visit to the principality can yield.
"This will be my second time racing there, and I think the difference between year one and year two is never going to be bigger than in Monaco," Dino Beganovic explains. "Last year was all about learning, and I did that the hard way with a crash in practice that you absolutely can't afford. 
"We get so little running in Monaco and that's the main challenge: knowing that you have to get quickly up to speed, but also need to stay away from the barriers and build your confidence for qualifying. It's a really tricky balance. It's a humbling experience in year one and hopefully this season I will be able to relax a bit more."  
Adding to the complexity of the weekend, Formula Regional will be the very first cars to hit the streets on the opening day of action on Thursday, with a significant amount of track evolution to be expected heading into qualifying one day later.
The first race of the weekend takes place on Saturday, with Race 2 played out on Sunday morning. Given the tightness of the short Monaco lap, not all cars will be allowed to start the races, making qualifying all the more important as drivers vie desperately to make the cut.     

TIME TABLE
Formula Regional European Championship
Rd. 3 – Monaco (MCO)
Thursday 26 May
Free Practice: 14.00-14.50
Friday 27 May
Qualifying – Group A: 09.05-09.35
Qualifying – Group B: 09.45-10.15
Saturday 28 May
Race 1 (30 min + 1 lap): 11.40
Sunday 29 May
Race 2 (30 min + 1 lap): 08.35

STREAMING / TIMING / RESULTS
www.dinoracing.se
www.formularegionaleubyalpine.com

CHAMPIONSHIP STANDINGS
Formula Regional European Championship
After 2/10 rounds (view full standings)
1: D. Beganovic (SWE), 86 p.
2: P. Aron (EST), 48 p.
3: G. Minì (ITA), 40 p.
4: M. Belov (N/A), 38 p.
5: M. Boya (ESP), 32 p.